Learn how to repair a car or truck, install or remove parts, wire an engine, reset warning lights, replace fuel filter, fix auto body and more.
Get Automotix DIY!
Automotix DIY provides automotive consumers and do it yourselfers; the most comprehensive repair information about 1998 Subaru Legacy car and truck repair procedures including Subaru engine diagrams, wiring diagrams, repair work estimating measures, technical service bulletins, auto body work guidance, starter & alternator replacement procedures, serpentine belt replacement procedures, radiator & hose replacement procedures, tune-up & drivability specifications, quick lube illustrations, preventive maintenance guide, engine light reset instructions, parts removal and install procedures, fuel filter replacement directions, component location diagrams, air filter locations & replacement instructions, a/c system specifications, and general auto service procedures. You don't have to be a car mechanic or technician to know how to fix your 1998 Subaru Legacy automobile. Try the Automotix DIY solution today!
DIY REPAIR SAMPLES > CONTINUE EXPLORING >
We have info for following modifications of 1998 Subaru Legacy
1998 Subaru Legacy Brighton 2.2 H4 GAS, CC:2212, Fuel Injection, Engine VIN:, Desg:4
1998 Subaru Legacy GT 2.5 H4 GAS, CC:2458, Fuel Injection, Engine VIN:, Desg:6
1998 Subaru Legacy Limited 2.5 H4 GAS, CC:2458, Fuel Injection, Engine VIN:, Desg:6
1998 Subaru Legacy Outback 2.5 H4 GAS, CC:2458, Fuel Injection, Engine VIN:, Desg:6
1998 Subaru Legacy Postal 2.2 H4 GAS, CC:2212, Fuel Injection, Engine VIN:, Desg:4
1998 Subaru Legacy L 2.2 H4 GAS, CC:2212, Fuel Injection, Engine VIN:, Desg:3
COMPONENT LOCATION DIAGRAMS FOR 1998 Subaru Legacy AUTOMOBILES
Component location diagrams for most 1998 Subaru Legacy cars and light trucks sold in the U.S. from 1990+.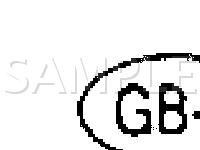 Tailgate Wiring Harness Connector Locations Diagram for 1998 Subaru Legacy Limited 2.5 H4 GAS
Components on diagram:

Pressure Control Solenoid Valve
Rear Wiper Motor
Rear Door Switch LH
Luggage Room Light
License Plate Light LH
CLICK HERE TO GET FULL ACCESS TO 1998 Subaru Legacy PARTS/COMPONENTS LOCATION DIAGRAMS!
Shop online for auto body parts, engines, wheels, lights...
1996 Subaru Legacy Spark Plug Wire, Meets or exceeds OE/OES specifications for fit, function, performance, and quality; Features OE conductor construction and OE/OES specified insulators, nipples, and terminals; Offers superior fiberglass, silicone, and Kevlar construction for excellent conductivity, high temperature, EMI/RFI noise suppression, durability, and more; Meets SAE J2031 Class E specifications rated to withstand temperatures from -40 to 428 degrees Fahrenheit; Designed with click-in-place end caps that match to OE end caps for quick installation and a tight fit without adjustment; Pre-cut for a perfect fit; Features specially designed ignition cable and wiring systems to meet customer-established performance, reliability, and cost; Passed strict quality control and testing procedures to ensure consistent product performance; Designed to protect electronic systems from electrical or magnetic interference; Allows for all weather starting; Offers resistance to heat, cold, and chemical attack; Carries a maximum voltage; Won't crack or shrink..
$14.62

---

1995 Subaru Legacy Headlight Bulb, Front, Driver And Passenger Side, Low beam; Features high standard engineering and extreme condition testing to ensure quality, dependability, and efficiency; A high quality OE replacement headlight bulb; Replaces part number 1999366; With 1-year or 12,000-mile AC Delco limited warranty..
$12.27

---

1999 Subaru Legacy 14" x 5.5" Steel Wheel, Steel Wheel; 14 X 5.5; 12 Holes; 5 Lug; 100MM BP; Black, , .
$69.50

---

1998 Subaru Legacy Outback H4, 2.5 L, 2458 CC Rebuilt Engine, SOHC, Warranty: 3-Year/100,000 Mile, .
$3,050.00

---

2010 Subaru Legacy Used Rear Vent Window, Passenger Side, M065, Very Good.
$96.00

---

2005 Subaru Legacy Used Bumper Bar, Front, 4DR, BLUE, BASE Without FOAM, Good.
$188.00
More parts
Search DIY repair manuals by VIN...
Need To Fix Your Car or Truck?
Try Our Repair Service Finder