Learn how to repair a car or truck, install or remove parts, wire an engine, reset warning lights, replace fuel filter, fix auto body and more.
Get Automotix DIY!
Automotix DIY provides automotive consumers and do it yourselfers; the most comprehensive repair information about 1999 MERCEDES-BENZ ML430 car and truck repair procedures including MERCEDES-BENZ engine diagrams, wiring diagrams, repair work estimating measures, technical service bulletins, auto body work guidance, starter & alternator replacement procedures, serpentine belt replacement procedures, radiator & hose replacement procedures, tune-up & drivability specifications, quick lube illustrations, preventive maintenance guide, engine light reset instructions, parts removal and install procedures, fuel filter replacement directions, component location diagrams, air filter locations & replacement instructions, a/c system specifications, and general auto service procedures. You don't have to be a car mechanic or technician to know how to fix your 1999 MERCEDES-BENZ ML430 automobile. Try the Automotix DIY solution today!
DIY REPAIR SAMPLES > CONTINUE EXPLORING >
COMPONENT LOCATION DIAGRAMS FOR 1999 MERCEDES-BENZ ML430 AUTOMOBILES
Component location diagrams for most 1999 MERCEDES-BENZ ML430 cars and light trucks sold in the U.S. from 1990+.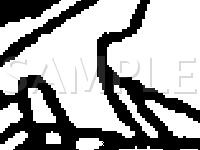 Pressure Sensor Diagram for 1999 MERCEDES-BENZ ML430 4.3 V8 GAS
Components on diagram:

Pressure Sensor
Connector B-28
Connector M-33
Connector Y-32
Connector B-2/5
CLICK HERE TO GET FULL ACCESS TO 1999 MERCEDES-BENZ ML430 PARTS/COMPONENTS LOCATION DIAGRAMS!
Shop online for auto body parts, engines, wheels, lights...
2001 Mercedes Benz ML430 Antenna, 1-section mast; 470 mm extension; Stick-on; A high quality universal imitation antenna; May require modification or other adjustment to your vehicle upon installation..
$5.01

---

2001 Mercedes Benz ML430 Headlight Bulb, A high quality, OE replacement headlight bulb; Backed by 1-year, unlimited-mileage warranty..
$15.13

---

2006 Nissan Altima Pillar Post Covers, PILLAR POST COVERS, 6 PIECE SET , , .
$44.76

---

2001 Mercedes Benz ML430 V8, 4.3 L, 4296 CC Rebuilt Engine, Warranty: 3-Year/100,000 Mile, .
Ad Hoc

---

2002 Hyundai Santa FE Used Cargo Cover, Brown, Very Good.
$85.00

---

2012 Honda Crosstour Used A/C Compressor, 3.5, AUTO, FWD 3.5L, Very Good.
$173.00
More parts
Search DIY repair manuals by VIN...
Need To Fix Your Car or Truck?
Try Our Repair Service Finder