Learn how to repair a car or truck, install or remove parts, wire an engine, reset warning lights, replace fuel filter, fix auto body and more.
Get Automotix DIY!
Automotix DIY provides automotive consumers and do it yourselfers; the most comprehensive repair information about 1994 MERCEDES-BENZ E320 car and truck repair procedures including MERCEDES-BENZ engine diagrams, wiring diagrams, repair work estimating measures, technical service bulletins, auto body work guidance, starter & alternator replacement procedures, serpentine belt replacement procedures, radiator & hose replacement procedures, tune-up & drivability specifications, quick lube illustrations, preventive maintenance guide, engine light reset instructions, parts removal and install procedures, fuel filter replacement directions, component location diagrams, air filter locations & replacement instructions, a/c system specifications, and general auto service procedures. You don't have to be a car mechanic or technician to know how to fix your 1994 MERCEDES-BENZ E320 automobile. Try the Automotix DIY solution today!
DIY REPAIR SAMPLES > CONTINUE EXPLORING >
WIRING DIAGRAMS FOR 1994 MERCEDES-BENZ E320 AUTOMOBILES
OEM drawn wiring diagrams for most 1994 MERCEDES-BENZ E320 cars and light trucks sold in the U.S.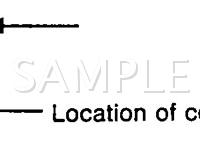 1994 MERCEDES-BENZ E320 3.2 L6 GAS Wiring Diagram
Components on diagram:


Symbol Identification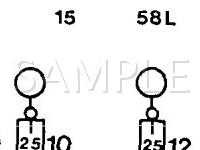 1994 MERCEDES-BENZ E320 3.2 L6 GAS Wiring Diagram
Components on diagram:


Fuse Panel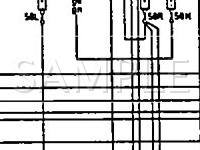 1994 MERCEDES-BENZ E320 3.2 L6 GAS Wiring Diagram
Components on diagram:


Washer Fluid Level Switch
Turn Signal Switch
Radio
Cigar Lighter
Combination Switch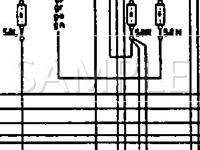 1994 MERCEDES-BENZ E320 3.2 L6 GAS Wiring Diagram
Components on diagram:


Rear Window Defogger Relay
Radio
Instrument Cluster
Fuel Level Sensor
Horn
CLICK HERE TO GET FULL ACCESS TO 1994 MERCEDES-BENZ E320 WIRING DIAGRAMS!
Shop online for auto body parts, engines, wheels, lights...
2002 Mercedes Benz E320 Wiper Blade, Front, Driver Or Passenger Side, Rear, 22 in. length, Includes universal plastic adapters and easy to follow installation instructions; This new generation flat blade provides improved wiping capabilities in rain and freezing weather, long lasting durability, an easy to service design using a rubber insert that requires no special tools or high cost items to replace, and a clean appearance from inside the vehicle with the wiper profile neatly conforming to the base of the windshield; Backed by 1-year, unlimited-mileage warranty..
$5.00

---

2009 Mercedes Benz E320 Antenna, 1-section mast; 470 mm extension; Stick-on; A high quality universal imitation antenna; May require modification or other adjustment to your vehicle upon installation..
$5.01

---

2013 Buick Regal Driver Side Fog Light, Driver Side Fog Light, , .
$37.50

---

1997 Mercedes Benz E320 L6, 3.2 L, 3199 CC Rebuilt Engine, Warranty: 3-Year/100,000 Mile, .
Ad Hoc

---

2000 Isuzu Amigo Used Rear Axle Assembly, (2 DR SPORT & 4 DR), 4X2 (DRUM BRAKES), 4.10 RATIO (41/10 TEETH, GT5, Very Good.
$499.00

---

2001 Pontiac Aztek Used Rear Lower Control Arm, Driver Side, 3.5, AUTO, FWD L, fwd lower link, (crossmember to knuckle), Very Good.
$109.00
More parts
Search DIY repair manuals by VIN...
Need To Fix Your Car or Truck?
Try Our Repair Service Finder